Meet Stephanie
Your ally to unleash the revenue potential in your site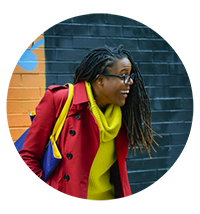 Hi My name is Stephanie Africa, I have an insatiable curiosity about Digital, with a passion for developing websites and strategies that support business owners in achieving their goals. My services help you properly plan for the online growth you'd like to see by providing web design and clear strategy to make your siteattracts and retains visitors.
Originally from Martinique in the Caribbean,  I have been living in London since 2007 where I decided to switch my career from Marketing to Online Marketing. That was the best idea I ever had! Since then I've always been working on multi-lingual websites planning and executing strategies, working with Field marketing managers to create new ways to drive traffic, creating and sending newsletters, organising partnerships and affiliate programs, managing SEO campaigns and promoting events and products through Social Media … Most of the time simultaneously and always driven by loving learning new stuff and getting better in those fields…  I started within a small business and then moved to bigger corporate structures where I got the chance to work with the best agencies and online tools. I realised that I could make a difference by helping smaller businesses achieving more and decided to bring all my experience and knowledge here to you.
Ideal for bloggers, consultants and hobbyists who want to grow their mailing list
Website + Branding + Marketing
Ideal for those who are selling services online and want to streamline their processes
I'm creating an online class to help entrepreneurs like you create their own website
If you don't see what you need, let's discuss! 
Contact me to receive the Media kit and get to know more about me, and how I can help you achieve your goals online !